Holiday Gift Guide for the Fitness Enthusiast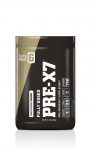 'Tis the season for festive parties, glistening décor, and most notoriously, gifts! When it comes to the fitness enthusiast in your life, we have all you need to get a jump start on your holiday shopping with ideas that will not only support their goals, but make you the most thoughtful of them all.
---
Set Them Up for Success…

…with Ignite Series™ V-CORE™. V-CORE is a three-phase protein formula providing a steady release of BCAA's and protein for long-lasting energy and recovery.  Give our seasonal flavor, Maple Bacon, a try! Or you can stick with one of our many other flavor options.* Consider adding a foam roller and epsom salt to help soothe sore muscles.
Give them an added boost of energy and increased focus with Elite Gold® Pre-X7™.* Choose from either watermelon or phantom orange.
Add in  a Six Pack Bag  from Six Pack Fitness to help make healthy eating easier and more convenient. For someone extra lucky, subscribe to a healthy meal delivery system or give them a cookbook for meal planning like a pro!
---
Ignite Immunity
…with Reclaim® Multi-Pure and Reclaim® Greens. Help your fitness-enthusiast get a full serving of vegetables and superfoods plus their daily multi-nutrient full of vitamins, minerals and nutrients.*
Add in herbal teas, hand sanitizing gel, and a sweat towel as extra stocking stuffers.
---
Boost Energy
…with Prime Drive® to rev metabolism throughout the day. Or get your coffee-lover the new Maine Roast™ Protein Coffee. Both are perfect for the busy individual always on-the-go. Just pair it with a shaker cup and they're ready to go!*
Complete the package with a Garmin Forerunner® 235 for detailed tracking of distance, pace, time, heart rate, and more during their workouts.
---
*Results may vary per user. Check with your physician before beginning a supplement regimen.
*These statements have not been evaluated by the Food and Drug Administration. This product is not intended to diagnose, treat, cure or prevent any disease.
The post Holiday Gift Guide for the Fitness Enthusiast appeared first on CN F.U.E.L..

Source: Complete Nutrition