Complete Nutrition's Complete Vitality Stack

This combination of products is designed to offer a full weight-loss and muscle building experience. The Complete Vitality Stack has four products that all work together: Annex

Protein Powder, Legal Limit Labs

Omega Shred

, Mancore® Total Fat Burn and Mancore® Testosterone Replenish. These products complement one another and work for men looking to lose weight and boost strength.*
Nutrition, metabolism and Testosterone can all drastically impact weight gain and strength. While all of these products play off of each other to create The Complete Vitality Stack, they are also all included in this stack for their individual benefits.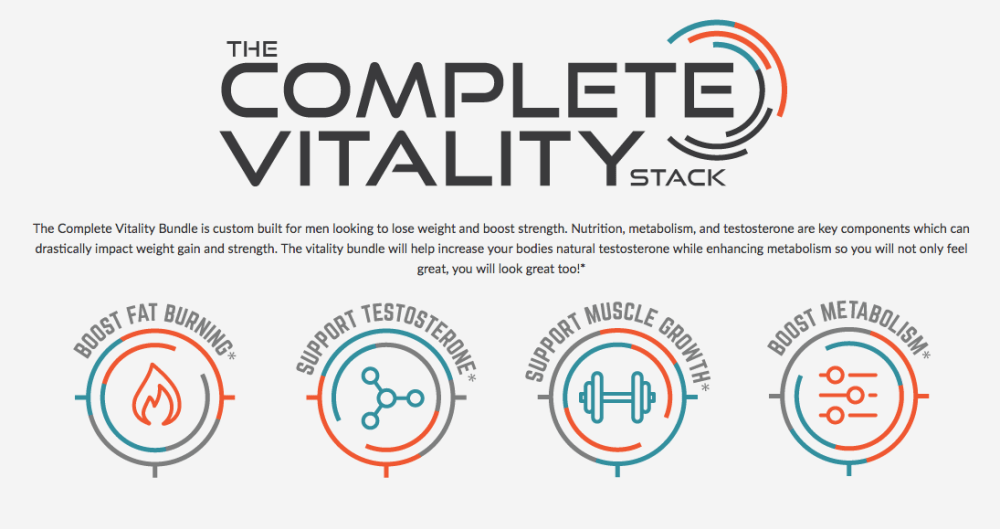 Mancore® Total Fat Burn
We're going to start off with Mancore® Total Fat Burn. The ingredients in this product include Synephrine HCL and Yohimbe to support natural thermogenesis; helping improve your body's ability to burn fat. There's also Green Coffee Bean and Green Tea Leaf which work together to boost metabolism and energy. Mancore® Total Fat Burn is most effective if you take one capsule in the morning and one capsule in the afternoon. You should also take each one with 8 oz of water, 15 to 30 minutes before a meal.*
Mancore® Testosterone Replenish
Next in this stack is Mancore® Testosterone Replenish. This is another product you'll take twice a day; 1 in the morning and the other in their afternoon. Just as with the other Mancore® product, you'll also want to take this 15 to 30 minutes before a meal with 8 oz of water. Mancore® Testosterone Replenish increases energy, supports muscle mass and free testosterone.*
Elite Gold Annex Protein
Mix one scoop with 8 oz of cold water, or two scoops with 16 oz of cold water. With a whopping 45 grams of protein, Annex

is designed to help you with your workout.
Elite Gold

Annex

Protein has 3 of the highest quality and quickest absorbing proteins available. This unique combination also includes a digestive enzyme so your body can quickly digest all that protein, plus amino acids which help lead to better muscle-building results.*
Omega Shred
One last component of the Complete Vitality Stack is Omega Shred

; the essential healthy oils you need to lose weight and keep it off. This has Medium Chain Triglyceride Oil, Conjugated Linoleic Acid and Omega-3s. All of which support a healthy and active lifestyle.*
Take Omega Shred

in the morning and again at night; two each, with 6 to 8 oz. of water.
The post Complete Nutrition's Complete Vitality Stack appeared first on CN F.U.E.L..

Source: Complete Nutrition